How does the process work?
We love helping businesses grow.
This is how we typically work with our clients to get measurable results
Our approach might be a little different than what you're used to with other folks – we do a lot of listening. That may not sound earth-moving, but our experience has taught us that when you listen before you speak and think before you act, what you say and do has an exponentially greater impact.
Our proven process to convert more visitors into customers
We stick to our process because it works.
By following this process, we're able to provide consistent results, and a solid plan to help your business grow.
Over the years, we have developed a purposeful and effective approach to building high quality websites based on our extensive experience client projects and our own. While no project is ever exactly the same, these basic procedures give us a solid road map for your website or marketing funnel development.
We first meet with you and ask a lot of questions to learn about your business, including your current sales and marketing efforts, what's been working and not working for you, your competitive landscape, the pains you solve for your customers, and of course, your revenue goals.
Based on everything you've told us, we design your online marketing roadmap, a succinct set of steps that drills down to the core of your sales and marketing situation, and provides a simple roadmap for accelerating your revenue growth. See who we work best with.
We give you regular updates to show and explain our progress, measure our success at meeting our defined goals and milestones, review your sales funnel and discuss opportunities and challenges we've come across.
Outline of a project's lifecycle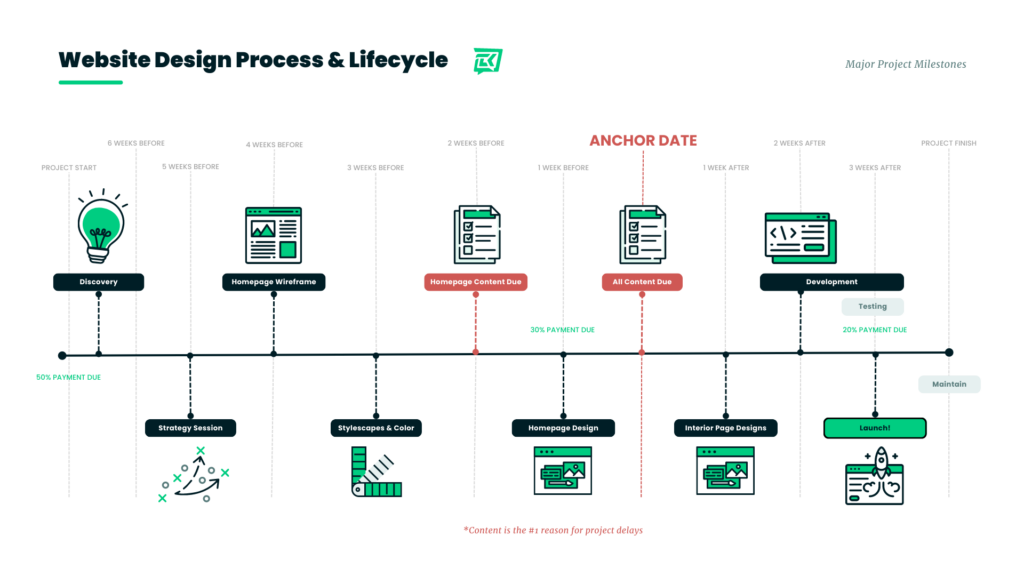 Depending on which package you choose, we will spend more or less time in each stage
Quote Request Received From Customer
Project Awarded to CLK Media Co.
Discovery Phase
We try to understand your product or services, target audience, benefits to your customers, what tactics have been successful for you, sales and marketing processes, and more.
Strategy Session
Here we discuss in detail with you how to best reach your goals and objectives and with your input put our initial engagement and outreach plan together to start making an impact with your audience.
Conversion Plan
A key component to online success is converting your visitors at different stages. Based on your market and audience we craft a strategy to help your visitors make decisions through their buying cycle with  you.
Copywriting & Content Collection
Giving your potential customers what they need to hear when they need to hear it, we help you create the headlines and sales copy that speak to your customers needs, desires and aspirations to evoke action.
Design & Development
Taking direction from our copy and strategy, and staying true to your brand, we produce the creative elements for your campaign or website that will help visitors trust you and give visual cues and touch on emotions to drive conversion.
Content Upload & Integration
Taking your existing content or content we helped create, we plug that into your website and landing pages to give your online marketing machine the fuel to drive sales.
Training & Orientation
After all the pieces are in place, and our initial Q&A has been done we will train you on how to use your new marketing machine and get you familiar with the tools you'll use on a regular basis to promote your brand online.
Testing Launch & Optimize
Once the machine is live it's not the end, it's only the beginning. Now comes the work of seeing what's working and what's not to optimize the machine to identify new opportunities and to produce the best possible results.
GET A FREE QUOTE TODAY
We support hard-working business owners who
want fixed costs and a reliable web partner.
Ready to Get Started?
Starting at just $349, you can get a custom website and managed online presence for your business plus incredible support from a real web pro that has your back.
Get Started Today